At Mark Darling Eyecare we are ever conscious of our environment & are always thinking of ways to reduce the amount of waste we produce and believe that our patients are too…
You may not have heard of Ortho-K lenses or are unaware of the potential benefits of wearing them. To put it simply, Ortho-K lenses are hard contact lenses that are worn overnight, meaning that you need no vision correction during the day! But, what's really exiting is that being an Ortho-K wearer can positively impact the environment! In this post we will be filling you in on everything you need to know about Orthokeratology Lenses.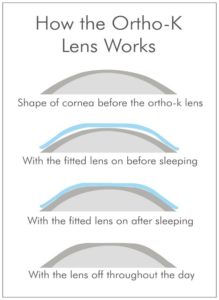 Ortho-K lenses are a great way to reduce contact lens waste, perhaps you are currently wearing daily disposable lenses, throwing away your lenses and plastic packaging at the end of everyday? Each pair of Ortho-K lenses lasts around a year meaning that you are substantially reducing the waste you produce over this time. How? – by reducing 365 individual, plastic and foil 'blister packs' to 0.
A recent study found that among more than 400 contact lens wearers surveyed, 19% discard their contact lenses into the toilet or sink. On an annual basis, this results in an estimated 2.5 billion contact lenses entering wastewater treatment plants, to put this into perspective, one pair of contact lenses was found for each two pounds of waste sludge.
Of course, as with any reusable lens, you will need to use solutions and storage cases but you'll be pleased to know that majority of our solution bottles are 100% recyclable! So now we know how making the change to Ortho-K benefits the environment, how does it benefit your day-to-day life?
Worn overnight, Ortho-K lenses mean that you need no vision correction during the day!
One annual pair of lenses costs less than a year's supply of daily disposable lenses!
They are great alternatives to laser eye surgery, are ideal for people who play sports and find glasses or contact lenses restrictive or for people who currently wear contact lenses but find that they dry out during the day.
Though not specifically approved for Myopia control, studies have shown this modality to be an effective method of slowing down the progression of myopia in children.
So there you have it, multiple great reasons to ditch the frames and/or disposable lenses and try Ortho-K.